Welcome to Laser Season!!!
If you are interested in laser treatments to improve the color or complexion of your skin, now is the time to take action!
Skin MD and Beyond offers a multitude of laser procedures, including: scar resurfacing, hair removal, and the reduction of both brown spots and red discoloration.
You might be asking, "Why do I need to wait till Autumn – when other clinics offer laser treatments year-round?"  The answer is that doctors and professionally trained laser specialists know that your skin is extremely sensitive to UV sun rays before and after a laser treatment. So, in Texas, the summer is not the best time to do laser treatments. If you have any sun exposure during the time of your laser treatment, you will be at risk for creating either white spots, called HYPOpigmentation, or dark spots, called HYPERpigmentation.
But now it is the Fall… so now is the time for IPL Photofacial
Erbium Laser Resurfacing
C02 Laser Resurfacing
Laser Hair Removal
And much, much more….
The Fall and Winter months are ideal for laser treatments as the days are shorter, and we tend to stay covered up and inside more, making it easier to keep our skin protected from UV sun damage.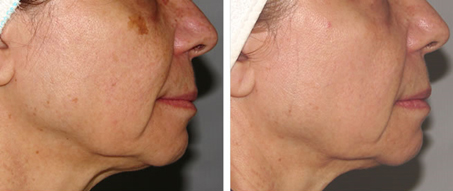 Prior to any laser treatment, I recommend a product which will further lower your chances of hyperpigmentation, RADIANCE.  I formulated Radiance to contain the perfect level of Hydroquinone and pigment lifting ingredients . It will prepare your skin before the laser treatment, and prevent sun exposure from darkening your skin any further. If you need a consultation regarding one of the procedures listed above, call today and get in on the lasers before the season is over!